Sorry for the lack of updates! This time we've brought something very, very big from Clamp: The first ever, Clamp fest!
Before we discuss this subject we'll talk about Clamp resuming serialization of Lawful Drug… so much excitement to the fans!
The last September 24th, the Clamp fest was held at the Ajinomoto stadium (Tokyo).
Here's a list of the celebrities who attended the event:
Daisuke Namikawa

(Fye D. Flourite and Ginsei)

DUSTZ

(performing the BLOOD-C OP)

Jun Fukuyama

( Kimihiro Watanuki, Kôtaro Kobayashi and Lelouch Lamperouge)

Junko Iwao

(Tomoyo Daidouji in Card Captor Sakura)

Kamiya Hiroshi

(Takashi Doumoto and Keefer)

Kinya Kotani

(performing songs from Tsubasa ~RESERVoir CHRoNICLE~)

Megumi Nakajima

(Chiho and Chise, also some Kobato performances)

Mika Kikuchi

(Soel and Larg)

Miyu Irino

(Syaoran from Tsubasa)

Nana Mizuki

(Saya Kisaragi, also performing BLOOD-C's ED)

Naomi Tamura

(performing songs from Magic Knight Rayearth)

Rie Tanaka

(Chii, also performing songs from Chobits)

Sakura Tange

(Sakura Kinomoto in Card Captor Sakura)

Sayaka Ohara

(Yuuko Ichihara)

Tetsu Inada

(Kurogane in Tsubasa and Ioryogi in Kobato.)

Yui Makino

(Sakura (TRC) and performing Tsubasa ~RESERVoir CHRoNICLE~

songs

)

SPECIAL GUEST:

Shouko Nakagawa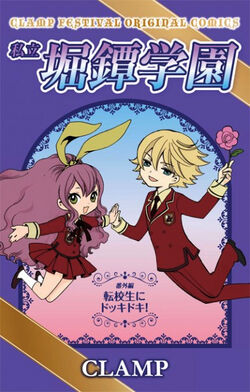 The event aired a live performance of the Horitsuba Gakuen school, with the following seiyuus: Sayaka Ohara, Jun Fukuyama, Tetsu Inada, Miyu Irino, Kinya Kotani, Kamiya Hiroshi, Mika Kikuchi, Yui Makino, Sakura Tange, Junko Iwao, Nana Mizuki, Megumi Nakajima and Rie Tanaka
The festival offered an exclusive Clamp manga, Shiritsu Horitsuba Gakuen Bangai-hen ~Tenkousei ni Dokki Doki!~ (私立堀鐔学園 番外編・転校生にドッキドキ!), "Horitsuba Private school ~ special: Get ready to meet the exchange students!" for the people attending the event.
It will also have an anime directed by Keiichi Satou (Tiger & Bunny) which was dubbed live during the festival. This manga will count with new characters: a girl named Anzu Nekota and a boy, Naomasa Gouji.
The DVD of the CLAMP Fes including the performances of the two sessions and the short animation of the Horitsuba Gakuen will come out on February, 2012.
It will include:
The anime of CLAMP's new manga, given as a gift to the attendees.
The short animation dubbed live: Shiritsu Horitsuba Gakuen Sungeki ~Ohiruyasumi ni Dokki Doki!~ (『私立堀鐔学園』お昼休みにドッキドキ!), "Horitsuba Private School ~ Short animation: Get ready for the recess!"
Script of the short animation.
Festival's postal.
CD extra with a medley of 5 songs from Card Captor Sakura sung by Sakura Tange and Junko Iwao.
EDIT:
The DVD has come out and a new event CLAMP FEST 2012 has been announced. We have raws of the manga, but they're in Japanese and we can't really translate them. We've found an animation of the manga, which has subs in Chinese (again, we'd be very grateful to anyone who could help translating).