Horitsuba Private High School: Excited for the Christmas cake!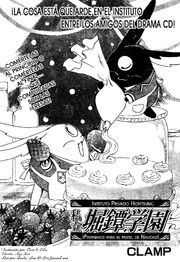 Release date: 12/12/2007
On the magazine: Magazine Dragon #1
Price: 630yen
Another omake is added to the list: 5-pages long, published in one of Shounen Magazine's special issue, Magazine Dragon, its first issue published on December 12, 2007.
The omake shows us how Yuuy teaches an extracurricular gastronomy class, as gratitude for all that the Horitsuba students went through with the search of the treasure game. At class, each one is at their own mess. Watanuki is frustrated with Doumeki's uselessness in the kitchen, who says it's his thing to eat, not cook, and the Mokonas baking the cake with all their love. Sakura also wants Syaoran to taste the cake he's baking, and along these two lovebirds, Syaoron has a great time.
Watanuki finishes his dessert and it turns out as a superb cake that Professor Yuuy doesn't doubt to praise. The Mokonas in turn reply that Watanuki could be a chef or a cook, though it's Himawari who knows which is the best job for Watanuki (a housewife)! Apart from this, Watanuki has to deal with Doumeki, who is stuffing the cake he's done, while Sakura hands over Syaoran a lovely cake dedicated to him.
His brother Syaoron gets him to blush when he reminded him that she made it especially for him. Yuuy asks if he's sure of leaving them both to themselves; and Syaoron approves. It's that they both know how hard it is to be twins (besides, they both are "the brain" of these brother couples) because Fye also has his issues, as standing next to the principal Yuko waiting for the ideal moment to attack Yuuy and the students, and take over the cakes. As always, they're bringing Kurogane-sensei.
Another peaceful day in Horitsuba High School.