Fujitaka
Fujitaka by CLAMP
Statistics
Series:
Tsubasa: Reservoir Chronicle, Cardcaptor Sakura
Gender:
Male




Background/Alliance Information
Relatives:
Syaoran Li (adoptive son, altered timeline)

Princess Tsubasa (daughter, original timeline),Touya (son, original timeline) Nadeshiko (wife)

Residence:
Clow Country
Current Status:
Alive
Appearances
First Appearance(Manga):
Ch.001. "The World of Beginnings"
First Appearance(Anime):
Tsubasa; RESERVoir CHRoNiCLE - Episode 1 - "Destinies Converge"
Last Appearance(Manga):
Ch. 233, "Epilogue, A World To Return To"
Last Appearance(Anime):
Tsubasa; RESERVoir CHRoNiCLE - Episode 31 - "A Young Man's Resolve"
Voice Actors
Japanese:
Tokuyoshi Kawashima
English:
Kevin M. Connolly
Description
Fujitaka is a crossover character from CardCaptor Sakura, Fujitaka Kinomoto. In the original CLAMP series, he was the father of Sakura and Touya Kinomoto, married to Nadeshiko, who died before the storyline began. Their character traits are similar, they are both archeologists and share the same personality.
In Tsubasa ~RESERVoir CHRoNiCLE~, he is the deceased adoptive father of Syaoran. He was an archeologist who traveled from excavation to excavation, teaching Syaoran everything he knew about history. After his death, Syaoran continued his excavation work in the country of Clow.
History
Altered Timeline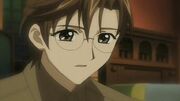 Little is known about Fujitaka. He was an archeologist who traveled to many different places. In one of these expeditions he found the orphaned Syaoran and took the boy in. Syaoran traveled with him, picking up great amounts of knowledge. As they traveled together Syaoran did eventually develop great affection for Fujitaka, even protecting a rare book he needed from a gang of thugs who wished to steal it.
When Fujitaka came to Clow he consulted with King Clow there, and it was decided to let Princess Sakura befriend the boy in order to get him to open up. Fujitaka encouraged Syaoran to spend time with her and often questioned Syaoran about how his day went. Fujitaka seemingly has no relation to Sakura nor Touya, though Sakura and Touya remain siblings in the series (they are the children of the king, Clow).
Syaoran encountered a young alternate of Fujitaka working on a ship as a mechanic (Episode 31). The boy was still unsure what he wanted to do with his life. The two of them were washed overboard and lost on an island, but Syaoran was able to use the archeological skills learned from his father to get them to safety. The young Fujitaka was inspired in turn to become an archeologist.
Original Timeline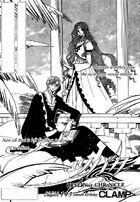 Fujitaka is revealed to be the "real" King of Clow. After "Syaoran"'s reversal of time, Clow Reed traveled to Clow in order to fill the void that "Syaoran" created, thus became the new King of Clow, and Clone Sakura's father. This new unfolding of events was due to his knowledge of the "Seal of Death" engraved on Sakura.
Epilogue
Once the world was turned to normal, Sakura was back once more to Clow Castle. There she met with her family again.
King Fujitaka and Queen Nadeshiko comment on her dreams and are concerned about their daughter.
Fujitaka is last seen saying goodbye to Syaoran's group.
Trivia
Clow Reed becomes the later king of Clow in the altered timeline, Touya's and Princess Sakura's father.  Syaoran's foster father in the altered timeline, on the other hand, is Fujitaka. This is a reversal from Cardcaptor Sakura, where Fujitaka is Touya's and Sakura's dad, and Clow Reed is Syaoran's ancestor. To complicate things further, Fujitaka Kinomoto is one of the reincarnations of Clow Reed.
Gallery