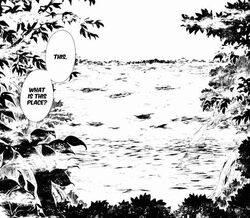 Previous World: Koryo
Next World: Jade

Fog Country (霧の国) is one of the countries visited in Tsubasa Reservoir Chronicle. This world is officially given its name in the CHARACTER GUIDE. Some fan translations include Country of Mist or Country of the Lake.
A lake with trees littered throughout this world is uninhabited. In this world there's not even a feather, Mokona just comes here attracted by the fish's great power, even so, powerful that it became a sun for a little city in the depth of the lake.
Story
The gang arrives in this world after Koryo and before landing in Jade. Mokona senses a great power, while everyone look in the surroundings Sakura falls exhausted. Between Koryo's feather and dreams, she remembers her birthday and how she met Syaoran (though she's not fully able to see him nor does she recognize him) when she told him his birthday would be the same as hers, April 1st. And even if he had no past with her, they would build a new future together. Syaoran then sees the lake illuminate and dives in the water to find a possible feather.
Inside the lake, there is a tiny city and a fish of golden and shiny scales, which drops one of them. Syaoran grabs it and realizes the fish is like a sun to this city. He tells the rest what he has seen, Mokona realizes that the power was the fish's and confused it for a feather. In the end, Sakura dives again in the lake with Syaoran (this happens in the anime only) and they look upon the city.
This scale is later used in the manga, however, it is not shown in the anime.