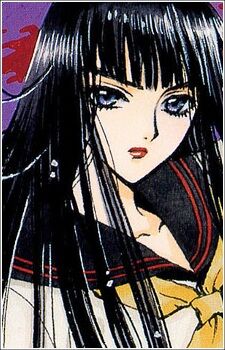 Arashi is a supporting character in Tsubasa Reservoir Chronicles. In the Republic of Hanshin, she's a retired priestess married to Sorata. She also appears in Koryo Country and an unnamed village (in the Tsubasa Chronicle anime only). In Tokyo, she's a priestess who can foresee disaster and is one of the seven fighters of the Tower faction.
She originally comes from X as a foundling girl raised by Shintō priests at Ise Jingū and the the Dragon of Heaven most immediately in touch with Princess Hinoto. Called the "Hidden Priestess of Ise", her specialty is sword fighting, a massive sword emerging from her left hand.
Though she had no further ambitions beyond duty to her princess, Arashi Kishu was forced to rethink her life when she met fellow Dragon of Heaven Sorata Arisugawa, who was convinced that she was the girl he would sacrifice his life for.
Appearances
Hanshin Republic
Arashi and Sorata receive the group in their guest house after their battle with Shogo. They know Yuko and possibly owe her a debt, which they partially repay by helping Sakura. When she wakes up for the first time in the anime, Sakura opens up a closet that belongs to Arashi, finding various clothes including priestess garments.
Koryo Country
Syaoran and friends are surprised to encounter Arashi and Sorata again. This time they are a pair of villagers who would like to overthrow the local Ryonfi (lord).
Tsarastora Country Village
When they revisit the village in Tsarastora Country from Episode 26, it turns out that Arashi's husband Sorata was one of the villagers killed in search of Sakura's lost feather, then later resurrected by Sakura's wish. However, he was now going to disappear. Before that happens, Arashi admits that she was killed trying to approach the temple to pray for Sorata. The couple embraces before they vanish.
Tokyo
Arashi is a miko siding with the Tower faction who foresaw the disaster in the world of Tokyo.
Gallery