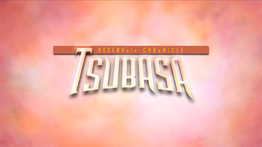 The anime adaptation for Tsubasa: Reservoir Chronicle was announced for April 9, 2005, simply called Tsubasa Chronicle. The adaptation was in charge of Bee-Train studio (Noir (2001), .hack//Sign (2002), Madlax (2004), Tsubasa Chronicle (2005-06), .hack//Roots ,El Cazador de la Bruja, etc) and whose staff includes many important members from .hack, including Yuki Kajiura as the score composer.
The anime was planned to be 3 seasons, 26 episodes each, which would be transmitted in Japan each 6 months (season - 6 months break- next season) and thus it would end by 2007. Nevertheless, the TV network NHK decided to end the series in chapter 52, leaving an open ending (they decided to break away from the mature tone of the manga, because it was "a second part of CCS for them"), completing only 2 of the originally planned 3 seasons.
NHK had a license for Tsubasa~RESERVoir CHRoNiCLE~ up until Rekord Country (Volume 15), and the relations between CLAMP and the company were getting worse (CLAMP was upset with the anime, NHK even rejected CLAMP's storyboard for the Second season opening for the "IT'S" which was included in the CARACTere GuiDE #2), thus the third season was never animated. This is why, there isn't and there will never be a third season for the anime.
Animax, an anime TV Network dubbed both seasons and began broadcasting the series under the title "Chronicle of the Wings" on April 6, 2006 across its English-language networks in Southeast Asia and South Asia as well as its Chinese-language networks in Taiwan and Hong Kong.
The TV Network Funimation Entertainment licensed both season under the title Tsubasa: Reservoir Chronicle for English-language release in North America with 12 DVDs.
The anime follows the manga storyline with filling episodes, specially the Second season, which was also censured a lot because of the NHK- who wants to sell another CCS. There are 3 drama CDs, called "Oukyuu no Matinee" divided in three chapters.
As an extra to close the anime, on December 20, 2006 the last disc of Tsubasa Chronicle was released: Tsubasa Chronicle Best Vocal Collection", a recopilation of some OPs/EDs, insert songs and vocal songs, and a new song by Yui Makino.
The next arc after Rekord is Tokyo. As a continuation of the original storyline, there was an OVA released, which is Tsubasa TOKYO REVELATIONS, produced by Production I.G. See also OVAS
Gallery
Staff
See below
Crew
Animation Studio: Bee-Train
Directors: Koichi Mashimo (1st season), Hiroshi Morioka (2nd season co-director)
Series Composition: Toshifumi Kawase
Script: Hiroyuki Kawasaki
Music score: Yuki Kajiura
Based on CLAMP's original works
Character design: Minako Shiba
Art Director: Shin Watanabe
Animation Director: Takayasu Shimizu
Editing: Masayuki Kurosawa
Director of Photography Katsuaki Kamata, Shinich Igarashi
Color Desgin: Makiko Kojima
Conceptual Design: Yuichi Mari, Masashi Koizuka
Production Manager/Animation Producer: Takayasu Shimizu
Executive Producer: Hisako Matsumoto and Noboru Suwata (1st season), Shinichi Tominaga and Sou Ichitani (2nd season)
Sound Director: Tooru Nakano
Production: NHK/NHK Enterprises
Voice Actors-Seiyus
Note: The seiyū for Watanuki, Yūko, and Mokona reprise their roles in the xxxHolic anime series. Aya Hisakawa also reprises her role of Kero-chan from Cardcaptor Sakura.
Episodes
See also Episode Guide
Season One
The first season was aired on April 9, 2005 until October 15, 2005, broadcasted by the NHK network. It contains the story arcs from Hanshin to Outo. Two OSTs were made, called Future Soundscape I & II and two singles corresponding to the opening (BLAZE) and the ending (Loop).
Season Two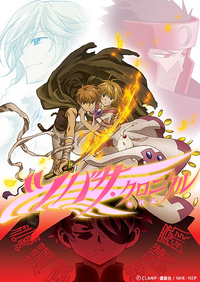 The second season was aired on April 29, 2006 and ended on October 14, 2006. The anime began with Piffle Arc, skipping Idol Country and Shara. After many filling episodes, the anime reached Shura and then Shara. Even with a change in order of the story arcs, the last following the manga storyline is Rekord, episode 43, afterwards the episodes are all filler episodes.
The second season has two OSTs, called Future Soundscape III & IV and also the two singles for the opening (IT'S) and the ending (Kazemachi Jet).
Anime Merchandise
Fanbooks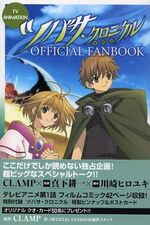 Tsubasa Chronicle Official Fanbook
ISBN: 406372011X
Release Date: 17/05/2005
This is a guide for the first anime season: Contains illustrations, characters with their corresponding worlds, an interview with CLAMP's Mokona and Minako Shiba (Anime's character designer), quotes, summaries for each world and for the episodes. It also features some artworks from the second season.
Tsubasa Chronicle 2nd Season Official Fanbook
ISBN: 4063721612
Release Date: 16/06/2006
The guide for the second anime season: Includes Piffle's summary, character guide, interviews with the seiyuus by Nanase Ohkawa. More interviews with the director, Koichi Mashimo, Yuki Kajiura, and others. Artworks, quotes, personality quiz.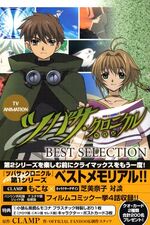 Tsubasa Chronicle Best Selection
ISBN: 4063721388
Release Date: 17/04/2006
A remake of the first Official Fanbook with a different name.
Calendars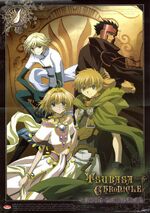 Tsubasa Chronicle Calendar 2006 (A)
ISBN:
Release Date: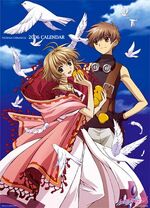 Tsubasa Chronicle Calendar 2006 (B)
ISBN:
Release Date:
Piano Solo Albums

Tsubasa Chronicle Piano Solo Album - Season One
ISBN: 4285103869
Release Date: 30/08/2005
A book contaning piano scores for the music tracks featured in Season One.

Tsubasa Chronicle Piano Solo Album - Season Two
ISBN: 4285108852
Release Date: 24/07/2006
A book contaning piano scores for the music tracks featured in Season Two.
DVD Releases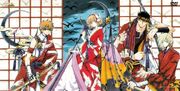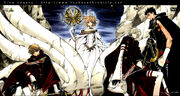 Limited edition DVDs for both Season 1&2 come with a DVD box to save the 7 DVDs, featuring original pieces of CLAMP's artwork.
Japanese
| Cover | Title | Number | Release Date |
| --- | --- | --- | --- |
| | DVD.1 Season One [#01-02] | BCBA-2276 | 26/08/2005 |
| | DVD.2 [#03-06] | BCBA-2277 | 23/09/2005 |
| | DVD.3 [#07-10] | BCBA-2278 | 28/10/2005 |
| | DVD.4 [#11-14] | BCBA-2279 | 25/11/2005 |
| | DVD.5 [#15-18] | BCBA-2280 | 23/12/2005 |
| | DVD.6 [#19-22] | BCBA-2281 | 27/01/2005 |
| | DVD.7 [#23-26] | BCBA-2282 | 24/02/2005 |
| | DVD.8 Season Two [#27-28] | BCBA-2628 | 25/08/2006 |
| | DVD.9 [#29-32] | BCBA-2629 | 22/09/2006 |
| | DVD.10 [#33-36] | BCBA-2630 | 27/10/2006 |
| | DVD.11 [#37-40] | BCBA-2631 | 24/11/2006 |
| | DVD.12 [#41-44] | BCBA-2632 | 22/12/2006 |
| | DVD.13 [#45-48] | BCBA-2633 | 26/01/2007 |
| | DVD.14 [#49-52] | BCBA-2634 | 23/02/2007 |
English
| Cover | Title | Number | Release Date |
| --- | --- | --- | --- |
| | | 1 | May 22, 2007 |
| | | 2 | July 17, 2007 |
| | | 3 | August 28, 2007 |
| | | 4 | October 9, 2007 |
| | | 5 | November 20, 2007 |
| | | 6 | January 8, 2008 |
| | | 7 | August 19, 2008 |
| | | 8 | September 30, 2008 |
| | | 9 | November 11, 2008 |
| | | 10 | December 23, 2008 |
| | | 11 | February 3, 2009 |
| | | 12 | March 17, 2009 |